The Wonderland Hotel in Elkmont, Tennessee
P. Marlin 2014 and 2018
UPDATE: On a recent visit (September 2018) to the original site of the Wonderland Hotel in Elkmont, Tennessee I noticed that all the abandoned buildings that I had photographed in 2014 had been removed. Photos of the original abandoned buildings, taken in 2014, are below.
2018 Photos
The Wonderland Hotel in the 1920s. Library of Congress
The fountain in 2018.
The stairway to the Wonderland lodge (1920s)
The steps in 2018.
Steps in the original hotel area.
This abandoned area near Elkmont, Tennessee was once part of the Wonderland Club, a vacation community. This community grew up adjacent to the former logging town of Elkmont. Developers purchased cut-over land, hoping to profit from the creation of a private social club similar to the Appalachian Club that was developing on the other side of Elkmont. The Wonderland Hotel was the center of activities. The present-day campground (just down the road) exists where the original town was located.
When the states of Tennessee and North Carolina were acquiring property for the creation of the Great Smoky Mountains National Park in the 1920s and 30s, most farms and homes of the mountain folks were purchased outright and residents were required to vacate upon transfer of property. Club town residents were able to negotiate lesser payments in exchange for lifetime leases on these properties. Leases for all but two expired in 1992 with the last two ending in 2001.
The Wonderland Club was established in 1911 and the Wonderland Hotel built in 1912. The Wonderland hotel permanently closed in 1992 then collapsed in 2005. Parts of the building were removed and preserved by the National Park Service. The entrance steps are now overgrown and nothing remains of the original hotel except the fountain.
In 1994, Elkmont was listed on the National Register of Historic Places as a historic district, affording the district special status.
2014 Photos
The abandoned buildings in the photos below are now gone.
Bricks where the Wonderland Hotel used to stand with an abandoned building in the distance.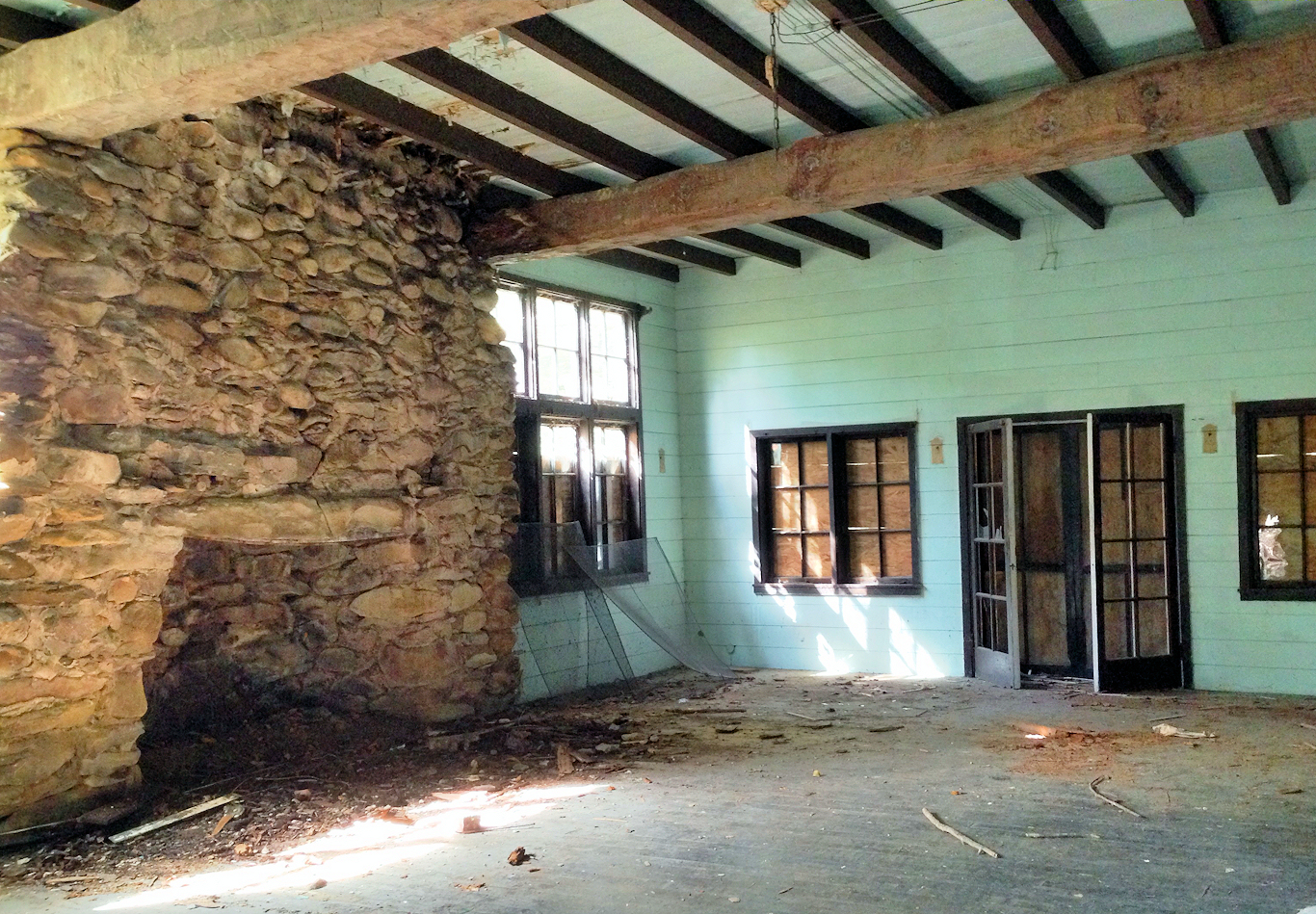 Inside the white building (from the photo above)
Abandoned buildings